"
and that's when i went to the ice caps to relax in the sun
"
 
Kebe is a character in Pixelcraftian's videos who was, along with Kabe, drawn and brought to life by Kirby.
Kebe is also one of the most popular characters in the series, owning a fanbase shown in Detective Kabe!.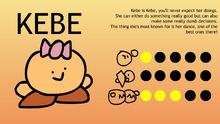 Description and Stats
"Kebe is an unpredictable kirby with excellent dance skills but very dumb decisions. She is a formidable foe if she's angry, though."
Kebe has 1 attack, 0 defense, and 3 friendship.
Looks
Kebe is a khaki colored poyo with brown feet. She has a pink bow on at almost all times.
Appearances
WIP
Trivia
She is a horrible writer, but her drawings are fine
When writing under pressure, she does intense math. Which could reference the hard math meme.
Kebe's appearance comes from Kirby: Right Back At Ya, in which Kirby was split into 2 in Episode 9.
Kebe was originally planned to be smart.
Kebe is an excellent dancer.
Kebe has done a lot of assist kills. ie: Stalling Marx, Reverting Keeby's Defense to Zero and More
Starstorm has a huge crush on her, though Pixel has officially confirmed that the ship between Kebe and Starstorm (Starskebe) will never be canon, ever

Though, they are best friends.

She has an e-mail called epic.kebe@gmail.com.
When using a Fire Flower, her color palette changes.
Kebe was confirmed pansexual by Pixel on both Discord and Twitter
Gallery