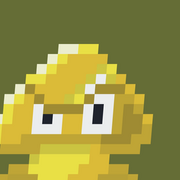 Gold Goomba is (almost) Invincible and he is very agile. Him and Goomba stand a chance aganst the other competitors and a shot at glory.
Trivia
He is inspired by the Gold Goomba from Level UP's series, but there are several key differences. According to his character website:

He's not very strong, nor does he really have an army to work with.
He wants to revolt against Bowser (and is open about it), but works for him despite hating his job.
He costs three coins.
Unlike Level UP's Gold Goomba, this one is naturally made out of gold, rather than using a special powerup.